Butternut Squash Soup starter.
Dozen Fresh Oysters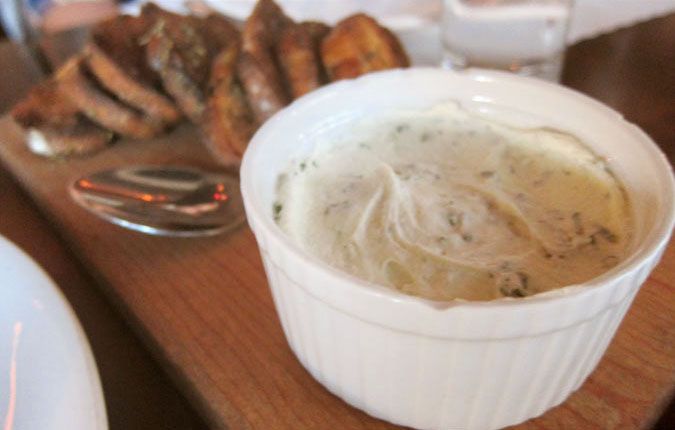 Rillettes de Saumon (Salmon Rillette)
Moules Marinières with Pomme Frites (peaking out on the left)
Grilled Hanger Steak with Polenta and Asparagus
Dessert board with a Galette de Pomme, Pot de Crème au Chocolat et Café, Cherry and Apricot Tart.
Up close of the Pot de Crème au Chocolat et Café.
So Church & State had been on my list of places to try for the longest time. The day I finally did, I instantly fell in love. Now, I unfortunately haven't gone in to too much depth about food, but I'm hoping to continue with more regular Food Fridays because, well, I'm a big food enthusiast and have been wanting to share all of the really good places I've been trying!
Back to this post. Church & State is a really cute French Bistro. Located in what I would consider the Arts District of Downtown Los Angeles, the restaurant fits in perfectly with their exposed brick walls, string lights, and wooden seating. Their regular menu consists of the usual French items such as escargot and a good mix of charcuteries along with entrees under their "Plats Principaux" section which offers pork belly and duck breast. They also have very good Parisian inspired cocktails! I arrived on a Sunday (I recommend going on any other day) and was offered either a Prix-Fixe menu or just a few options off their regular menu which was very limited. We opted for both. I apologize for the last few pictures! The sun had decided to set as we were being served our dessert! A dimly lit setting and no flash is the result of very grainy food pics :(
French is probably one of my favorite types of food and Church & State is a fantastic place for it. Overall, food was great and ambience was perfect. My favorites from this meal had to be the mussels and the rillette. The hanger steak was also cooked to perfection. I plan to come back in the near future to dine off their regular menu and you should too!
Church & State