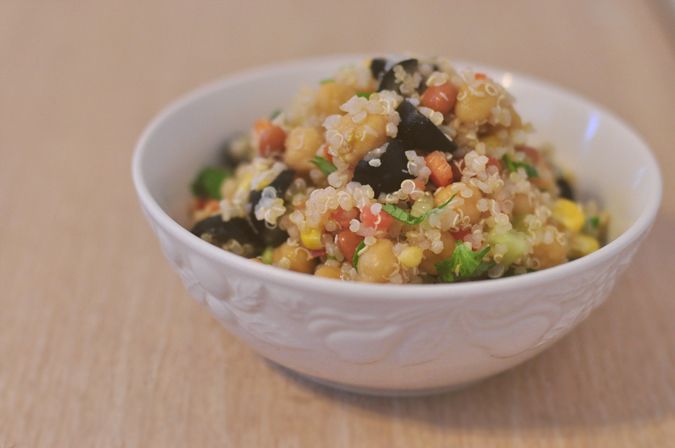 I discovered quinoa about a year and a half ago and it's been my favorite quick fix healthy meal. Quinoa is almost like a grain and while being really healthy for you, it's quite delicious. It's packed with protein and fiber and you can pretty much toss anything into it as you would with your salad or pasta salad. A recipe I use frequently with some minor adjustments of ingredients I have on hand is from
Tablespoon
. Pictured above, I added cilantro, tomato, cucumber, olives, chickpeas, pinto beans, corn, and cilantro. I follow the directions with the olive oil dressing and add a pinch of red crushed pepper for a kick. I personally like to chill mine for a few hours upon eating!
Simple Quinoa Salad
Ingredients
1 1/2 Cups Quinoa
3 Cups Water
1 Large Handful fresh cilantro
2 Tablespoons Olive Oil
1 Avocado
1 1/2 Cups Grape Tomatoes
1 Lemon or Lime
Directions
First, rinse quinoa thoroughly in a small strainer. Bring 3 cups of water to a boil. Put quinoa in water and reduce heat to simmer. Cover and cook until all water is absorbed (10-15 minutes).
While the quinoa is cooking, halve your tomatoes and cut up your avocado and cilantro.
Once the quinoa is cooked, drizzle w/ olive oil and sprinkle with salt, pepper.
Stir up the quinoa to release some heat and bring to room temp.
Stir in avocado, tomato and cilantro, squeeze your citrus over this, toss and enjoy!