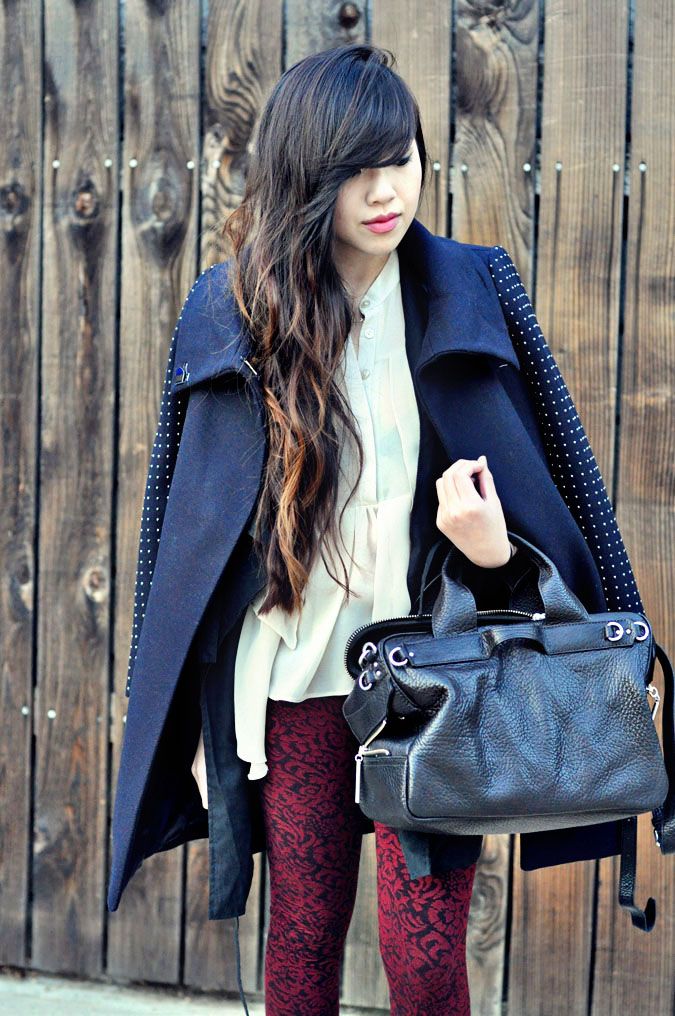 Studded coat, Zara (now on sale here).Jacquard leggings, Zara. Blouse, Asos. Layering anorak, NastyGal. Shoes, Jeffrey Campbell. Lark duffle bag, 3.1 Phillip Lim (here)
.
LA is usually not too seasonal, so I have to save my winter coats for my trips to the east coast (T minus 3 days until Boston!!!). Lately, it's been pretty chilly here so I get to bring out my fun winter wear more often! I fell in love with this Zara coat because I'm naturally drawn to anything studded. It's a magnificent navy, almost black, color so it is really versatile. I have been gravitating towards rich, gemstone colors as of late, so I have been replacing my regular black with these gorgeous bordeaux leggings.

My favorite bag a.t.m. is my Phillip Lim Lark Duffle Bag. It is made of really good pebbled leather and is large enough for me to throw all of my essentials, even my Ipad. It has a messenger strap and tote handles so I can wear it with any outfit. It has been my go-to bag from one of my favorite designers. Highly recommend!